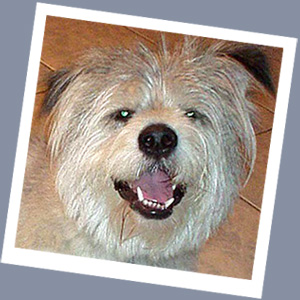 Oscar's Story
Oscar was a fellow who began his young life in 2004 after being found in a restaurant's dumpster. Before that, well, we don't go there.
Oscar's body was shattered at only eight weeks old -- his hind legs and hips required surgery, his jaw was broken, and he sustained spinal and nerve damage. After surgery Oscar went through physical rehabilitation, which included daily exercises and the underwater treadmill. While Oscar made the best of what life gave him, he still could not stand and get around well. It was decided to amputate his right rear leg in hopes that he could balance and get about with his three good legs.
He continued to receive exercises and therapy to improve his balance and mobility. After many weeks of strengthening his back and left rear leg, it was decided that he would benefit greatly from a cart, so Oscar received an early Christmas present.
He was a jolly, impish fellow who took life as it came and made the best of it. He is greatly missed.
He is the Foundation's inspiration and motivation to help other animals regain a happy outlook and enjoyment of life to the fullest.
The OSCAR Foundation -- The
O
rganization for
S
pecialized
C
are in
A
nimal
R
ehabilitation
Donate Here