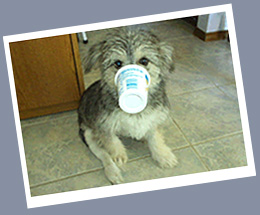 The OSCAR Store
You can support OSCAR and his friends by purchasing a packet of six notecards of six different pets for $10 (plus shipping). All proceeds go to OSCAR.
OR you can e-mail a .jpg photo to
cards@helposcar.org
, and we'll send you six notecards with your pet's picture for only $10 (plus $5 shipping for priority mail).

Abby
I had knee surgery on both legs and love the underwater treadmill.

Beau
You should have seen me on the Senior Agility course!

Browner
I fractured my femure on the 4th of July, but now I'm running again."

Jasper
I was hit by a car, but I'm still a go-getter!

Fritz & Conrad
We both had back surgery!



Gaston
Rehabilitation has given me my buff body.



Kizzie
I have fibrotic myopathy and love the underwater treadmill.


Jesse & Tanner
This is me with my brother Jesse. My range of motion is getting stronger every day.



Jordan
I developed partial cruciate tears in both hind legs and had both knees repaired on the same day.



Shadow
I'm a cancer survivor!