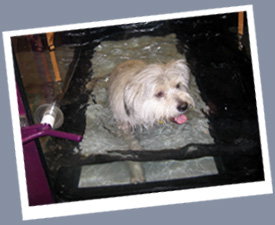 Rehab Info
Services Offered
Underwater Treadmill
Using the properties of water, we can strengthen muscles and the cardiovascular system without stressing the joints. The treadmill itself gets the dog moving and the speed, time and water level can be adjusted.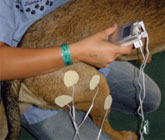 Neuromuscular Electrical Stimulation (NMES)
This modality stimulates the muscles to involuntarily contract. It is particularly useful for neurological conditions where the nerves may not be functioning properly. This will help enhance the muscle performance for range of motion, muscle re-education and strength. E-stim can also be used to help "pump out" swelling from the tissues surrounding a surgical site.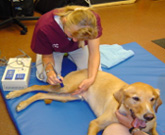 Therapeutic Ultrasound
This type of ultrasound can be used to decrease pain, muscle spasm, and stiffness while increasing blood flow and healing of tissue. This modality can be used for tendonitis, "pulled muscles" and joint contracture.
Therapeutic Exercise
A specialized in-clinic and in-home routine can be tailored for each animal. With the use of balance boards, pilates balls, therabands, land treadmills, mats and steps, the animal will regain range of motion, strength and balance.